Pop Art Comics - Everything you Need to Know!



There are a wide range of comic styles out there for Pop Art including that of Roy Lichtenstein, who arguably created the style. Some would say however that he borrowed very strongly from the comic book styles of the 1950's and 1960's to create his iconic art. So which came first? Good question...



Pop Art was born out of the imitation of consumer culture and as such the different elements are almost inseperable from each other. All we see around us today could become the subject of pop art tomorrow. Strong advertising imagery fed into the comic pop art movement as below. However, Roy Lichtenstein was clearly inspired by the do or die comics of the war and post war eras...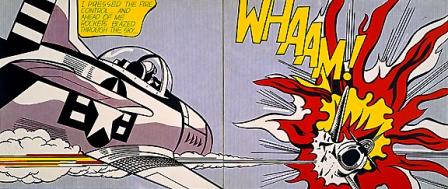 There were very few images as evocative as Lichtenstein's 'Whaam!' (1962) above. This is a truly outsatnding pop art comic book picture, which links well with the comic book theme. The real thing is an astounding size, 4 meters long and currently hangs in the Tate in London. An outstanding site I can tell you, having stood before it in complete wonder. It was actually based on an image from 'All American Men of War' published by DC comics in 1962.

If you are interested in buying comic Pop Art why not check out below...


| | | | |
| --- | --- | --- | --- |
| --- | This store brought to you by | | --- |

There will be more information about comic pop art on this page in the near future, check back soon...

OR you could use the nav bar to the left to find out loads of other cool stuff about Pop Art.

To return to our home page click here...