Canvas Pop Art Shop? Hand Painted? Black and White? Celebrity Portraits? This is the perfect place...
All of the pop art paintings below are hand painted by myself, the pop art expert - Chris Briggs. I absolutely love painting Pop Art and do it as a hobby more than anything else. But as is often the case in life, what starts as a hobby often turns into something else.




I have exhibited in galleries across the UK, been used in commercial projects and even provided bespoke art work for reforming 1970's rock bands! My paintings now hang on walls around the world. If you want to browse or buy then be assured I have sold and dispatched paintings safely regularly all over the world for the last 10 years with confidence.



Buy with confidence using any type of card and receive extremely personal service (also through the security that paypal offers). I will notify you on receipt of payment, and on dispatch. I also provide a handwritten note of authenticity with each painting. I am happy to say that the quality of painting you will receive, really is worth every cent or penny!



All

paintings:

Triple primed Windsor Canvas (2 inches deep and painted around the edges!)
Are painted with high quality Windsor acrylic paint
Personally signed by the artist (me!)
Quality that is second to none on the internet
Signed note of authenticity included with every painting
Flat and very fair rate of shipping to UK and US customers
Easy, safe, secure Paypal payment with or without paypal account
Packaged carefully for safe delivery
100% money back guarantee on all paintings if not completely satisfied!
ALL paintings reduced to just $80
With thousands (yes I have painted that many!) of paintings all over the world and people enjoying my art in all continents, I would be proud to send you any one of these hand painted beauties...

Note: All paintings reduced from

$99

to

$80

for a limited time only.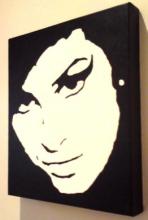 Amy Winehouse - This stunning piece of hand painted art will sit perfectly on any wall. Amy Winehouse really is the cult icon that people will be talking about in years to come. Only the best tripple primed 2inch deep box canvas is used and the finest Winsor acrylic paint.

This hand painted stunner costs just $80 plus $15 shipping. Painted by me, The Pop Art Expert. This shipping charge applies as a flat fee, for shipment Worldwide. Size 16inch (w)X 20 inches(h) X
2inches (d)